Awards
In 2018, the Aircraft Owners and Pilots Association (AOPA) recognized Cape Fear Aviation Flight Training as a Distinguished Flight School in the Southeast USA for our high standard of accomplishment in flight training. Prior to receiving this award, Chief Flight Instructor Dave Herwig received a Distinguished Flight Instructor Award.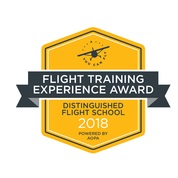 Hear From Our Students
"2GC has a real sense of community and is full of great people. I learned how to fly here when I was sixteen and have loved it ever since." - Jake P., Commercial Student
"I originally started my flight training at a business-oriented flight school. But after coming here, I learned aviation is so much more of a community-driven hobby. This place is a great place to fly, learn, and just hang out." - Josh B., Commercial Student
Interested in flying with us?
Speak with any of our Certificated Flight Instructors today and ask about an Introductory Flight!